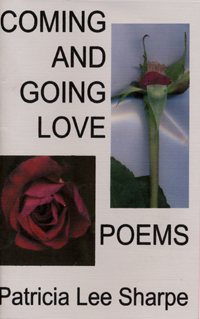 "These are a different type of 'love poems'.
They are exciting and honest, and they will blow your mind!"
"You will be thrilled by Patricia Lee Sharpe's fast-paced and moving verse. This is a great little book."
Leah Maines, author of Beyond the River
BIRD BRAIN
With all this coming and going, love,
I begin to feel like a little plastic bird
clamped on the rim
of an empty glass
bobbing
up an down
on my own little spring
upanddown
upanddown
my red plastic beak
going upanddown
upanddown
pecking
up and
down
and
up
and
d
o
w
n
.
ON THE FENCE
I sing hello!
to people passing.
I'm simpatico.
I make them smile
They call
Come along!
But I don't.
Mistress of maybe,
I teeter and tilt,
waving hello!
waving goodbye!
The view from here?
Magnifico!
Though a view
is only a view.
I don't have to fall
to ruin my life,
to make it
finito.
WRECK
She asked a lot
to keep her afloat,
yet nothing beyond us,
given will half as strong
as our sailing skill.
And we did find
the isles of happiness,
from time to time,
sharing the joyous relief
that comes at sunset
with a school of porpoises,
all slick and grinning,
to lead us through a reef.
It wasn't the helm
we fought over,
not even the goal,
but the course.
I was Columbus, up
for uncharted landfalls.
You were da Gama,
hugging the coast,
fearing the worst.
So there we were,
sharing a hull,
sailing askew.
If sailors knew
they'd never be wrecked,
the sea would be safer
but less alluring.
Working at odds,
we doomed the ship.
Watching her sink
was a heart-breaking,
heart-rending thing.
NETTLES
Reaching a wide open meadow,
a small animal stopped. She looked in all directions.
There weren't any signposts or well-worn paths
to tell her, "This is the way, safe and right,
for you." The animal looked up.
The sun hurt her eyes and made her cringe.
On a bright warm day, without a cloud in the sky,
without the least whisper of a breeze,
she shivered. She looked about and saw a hole,
a place to be secure. She scurried,
she scampered,
she scuttled for it,
as if something huge and hungry were right on her tail.
And so she ate the weeds of necessity.
She ate thistles and prickles and thorns
and never suffered from a shortage of nettles.
"There's much to be said for nettles," she thought.
But often she would lie at the mouth of the burrow
and look out at the meadow
and look up at the sky
and look and look
and look.
GIBRALTAR
On your shoulder
I wept and wondered:
are you Gibraltar
standing firm
or a stone I'll never
get warmth from?