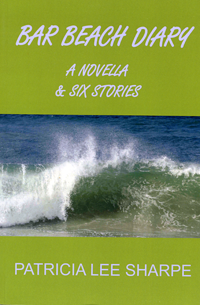 "Fresh.  Incisive.  Inspired.
An impressive collection."
Kirkus
Some boldly, some timidly, the protagonists in Undertow (originally Bar Beach  Diary)  take stock of their lives, then break the rules, exposing themselves to unfamiliar settings that challenge them further. Adventures may turn into misadventures, but potential is unleashed. Lives are changed.
Sharpe performs magic here, whisking us from one captivating world to another, each wholly convincing.  She's given us a stylish, witty collection with plenty of heart.  A disillusioned young diplomat finds solace on Bar Beach, which turns out to be more dangerous and more seductive than her colleagues imagine. A visiting scholar is kidnapped by rebels in West Bengal. A purse snatching in Seville turns a honeymoon into a nightmare. Transgressive love promises liberation to a Javanese who may be tripped up by her own mortality. Nigeria's vibrant culture tests a senior diplomat's complacency and his marriage. Hiking in Ladakh taxes a trekker's body and ego. A wintery baptism in Soviet Moscow ignites repressed creativity.
The story "Blue Sheep" asks: What's failure? What's success?  Germaine, a trekker from Arizona, tackles  Ladakh's austere Himalayan terrain and finds that the two may be hard to tell apart.  The  story begins mid-trek after initial hopes have imploded:
"Sher Khan is a sturdy little mountain horse whose name means Lion King.  Tireless, tolerant and finicky only about his footing, he's a sensible little horse who lives by threading his way over the high passes of Ladakh.  Sometimes he's loaded with tents and food. Often, as now, his cargo is human.  Germaine should feel secure.  She doesn't.  Folded and refolded to serve as a saddle, the blankets she's perched on could shift at any moment.  Slipping rightward she'd be scraped, bruised or concussed, depending on how she hit the canyon wall.  A spill to the left would plunge her fatally into a seasonably shallow Markha River…..
The title novella in Undertow opens with an epigraph from the Bar Beach Yacht Club handbook:  "Remember! People have been drowned on these beaches just standing up to their thighs in the sea."  Does this warning (reinforced by advice from her Embassy colleagues) keep Elena Swift away from the notorious Bar Beach?  Not at all.  Check out some bits from her memoir:
". . . . .My household effects have arrived. Every container is screaming Open me!  Open me!  But it's Friday. I've survived a grueling week at a tough new post and I'm sick of being conscientious. . . . .Lagos!   The Foreign Service assignment from hell.  I did the research. I read the reports.  I spoke to people who've served here, mostly unhappily.  Wimps, I thought.  Whiners.  Whereas I'm up for anything and everything, which is fortunate, because Lagos looks likely to deliver.  Imagined as an orderly queue, the daily visa line stretches to Mars and back — or maybe only to Cairo.  And forbearance is not a Nigerian virtue.  The visa seekers are weary, sweaty and contentious by the time they confront a visa officer, who is also weary and contentious. . . . .As of today, week's end, my own patience is a high maintenance operation. I want to snarl, scream and get sarcastic, too.  I'm human after all. . . . .But I'm also in charge.  So here I am, desperately playing at paragon, responsive but firm, cheerful but decisive.  Totally schizoid.  For the sake of my own sanity, I'll need to guard against early onset cynicism. . . . .Fuck the boxes, I think.  A few more days of squeezing around them won't kill me. . . . .
"Shortly after my arrival in Lagos, two young people, a boy and girl, went for a swim off Bar Beach and drowned. . . . Now I, too, am becoming a Bar Beach person.  My time is twilight, when the ghost of a breeze helps me to remember what coolness is.  Gray sky.  Gray water.  The tranquil time, a sweet transit toward unbroken, untroubled seep after painfully long days of disappointing people.  Lethe without the lethal. . . . .I turn off my static-spitting two-way radio and try to forget about my caseload of Americans in trouble.  It's not easy. There's the clueless kid from Brooklyn who's facing a death penalty for possession of a sockful of heroin.  He fails to grasp the gravity of the situation, though I'll probably get him pardoned.  There's the Baptist missionary ranting about fanatics in Zaria who set fire to a stash of Bibles.  That's what he gets for soul searching in edgy Muslim territory.  We can't intervene.  There's a roots-seeking romantic from Chicago's South Side with multiple injuries from a bus-truck collision.  We visit him every day, but that's not enough for his mother, who accuses us of negligence. . . . .
"Meanwhile, I've got one young visa officer suffering insomnia from the stress of saying no, no, no.  Another's so cynical he never says yes.  She needs hardening.  He needs humanizing.  Nothing's formulaic about this business of mentoring first tour officers. . . . .Plus, there's this, the poison pink icing on the cake: an all-powerful ambassador who's impossible to psych out. . . .But Bar Beach is always waiting.  The sun descends.  The temperature drops.  The sluicing of the waves soothes like a soft hand on a forehead corrugated from tension.  Anxieties dissolve in the small pleasures of the moment. . . . .
"I decide one evening to see if I can predict a killer wave. I feel it before I see it, a gathering of energy that hovers like a shadow before the cresting begins and the trough deepens – and then!  Nemesis with a dribble of froth on its lips.  High and dry and safe as I am, I cringe as the monster crashes. . . . .Repeating my study on successive days, I hope to find a rhythm, a pattern, an element of predictability.  There is none.  There is no safe way to swim here. . . .
"I am avoiding the beach now because I fear it.  I feel like an excess kitten, for whom there is only one card in the Bar Beach tarot.  Death by water. . . . ."