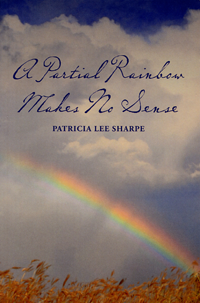 "A finely focused writer attuned to subtle social exchanges and their implications….the poet's voice is critical but tinged with hope, her words are sharp but chosen wisely.  She seems to see something complete beyond life's fragments: a world where war, poverty, violence and inequity may not make sense, but like a partial rainbow, there's still a touch of beauty in its imperfection….a varied yet cohesive collection that nicely balances the big and small pictures."
Kirkus
 Lovers split.  Daughters venture.  Toddlers rebel.  Mothers cope.  An old woman sits alone with her tea.  Kindness meets terror.  Eve confronts Adam.  Violence invites retribution.  Mountains beckon the spirit.  Alienation slides into mystical absorption. This wide-ranging collection of remarkably accessible poetry speaks to and of real people battered by inner and outer conflict.  With unflinching honesty, gentle irony and shimmering depth, these poems depict emotion, not as recollected, but caught in the act.
SNAILS
must think the world
a very dangerous place.
They're seldom without a shell
for refuge. At the least touch
they rush inside, but not
for long. Bored, bold,
curious, hungry—soon
they're extending those soft
but eager antennae and all
else follows. Snails excrete
a track that some call slime.
But, mornings, when websilk
glitters wit dew, what I find
are traceries of silver.
CAMPFIRE STORY
During those sun-bathed times
that set us loose from class,
we'd pare our lives to the hard
and clean, cut free of all
the amps and phones and mice
of plugged-in life, and off
we'd stride, feeling—don't laugh!
heroic, despite our brandname
gear and the fact that the wild
we'd traverse was officially preserved
and mapped to the last ravine.
Bagging peaks, sliding stripped
and shivering into hidden pools
hollowed out by little cascades,
we were drunk on Nature and quick
to condemn the corrosion back there
—meaning here, in the cramped
and conflicted city, where thought
and action never quite match
the iron-bound premises,
the marshmallow perfections,
of revolution, revelation
and dreams.
COLOR BLIND
Is it yellow or green
they miss? Orange
or blue that seems
dull gray?
It's hard to recall
what hues these men
have never seen,
never will,
and can't miss
as I do, depressed.
A partial rainbow
makes no sense.
It might as well
be uniform,
might as well
not be.
Will it peacock again
for me? Preen,
flashing eyes for me?
Then—when?
REFUGEE CAMP
Hunkered down in camps, wrapped
in borrowed blankets, sinking at last
into velvety sleep, the women well
remember (and try, for the children, to invoke)
a land where trees bent with flowers and fruit
and people cried only (so it seems
now) from an overdose of the drug
once known as happiness, which (they try
to assure the children) is sometimes, in some
places, still stocked. The children, pinched
with hunger but drifting off, are soothed
by mothers' voices and the touching trust
that parents always know what needs
to be known and always tell the truth.
DONKEY BELLS
I wanted to bring just one bell home,
to call back, whenever the least wind blew,
our trial balloon trek in a world not our own.
In Suikhet—remember?—startled awake
by a chiming sound that broke through the dark
and lured us out of our sleeping bags
to fumble the shutters open. Stars
were still out, though dimmer, house shapes
were almost visible, and a shadowy train
of donkeys, plumed, we could just see,
and piled with goods—a furry carillon—
was attacking the stony steep path to Jomsom.
We gained a thousand feet, we clumped down,
we sauntered along the almost level,
our serenade that jaunty make-way chorale,
like flash floods of clear bright sound,
note tumbling on note, with a basso of rocks
being stirred about by hooves. The sound
would divide and flow around us, then fade,
in a clip-clop diminuendo. The bells
gave me strength somehow for the worst
inclines (so easy for you), and I too
was drowsing when the laggard of the last
train, plume- and burden-less, was slapped,
braying eee-awwww, into a paddock for the night.
If one of those bells, I thought, could ring
for us always, nothing else could be lost:
in the rosy light of dawn, confronting
Annapurna from a meadow where kids
really had gamboled at sundown; watching
the wind-whipped rhododendron dance
before stately Daulagiri; bouncing
over rapids on bridges too loosely guyed;
handholding up waterfalls; standing,
giddy, as Deorali's cold moist air
condensed into streamers, white scarves
presented by an unseen lama; you, you—
Of what we said as we walked not much
comes back. But those sonorities! And
some rooster's mood-shattering crow
any time of day! And the donkey men
shouting "Cho! Cho!" and whacking rumps
—and saying "No! " to giving us bells.
Stores didn't stock them. Time was too tight
to commission a blacksmith. Hard to accept,
but final: none packed out to resound
through the humdrum ahead. Fine as it was,
then, past and gone. Like mist. Like you—