Don't be afraid, not of dogs or strange
noises or leering men in pickup trucks.
Don't be afraid of the dark, unless
you feel it creeping up inside.
from "Climbing Mt. Bernal"
in A Partial Rainbow Makes No Sense
I always riffle through a book before I fish for my credit card. I want a sense of its style, its flavor. So I've built this website to give visitors a taste of my work. Three poems appear on this page, a few more on subsequent pages, along with some bits of fiction. When I give readings, I frame selections with context or commentary. I'll do some of that, too. But, ultimately, whatever I write stems from a life that's never been confined to one city, one state, one country. Here's the story, the obligatory biodata – a short version anyway:
When I was growing up, moving from place to place with my family, I knew what I wanted to do. I wanted to write. But first, it seemed to me, I had to know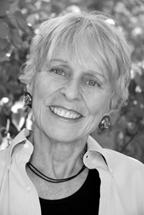 a lot more about the world. So, for better or for worse, I didn't major in literature or journalism in college, I didn't opt for an MFA in creative writing and I submitted to the PhD process only when I found myself jobless in a small university town. . . . . But always, as it turned out, I made my living by using words, even (or especially) during the years I spent as a public diplomacy officer in the U.S. Foreign Service. Posted to Indonesia, Sri Lanka, Tanzania, Nigeria, Sierra Leone, the Dominican Republic, Pakistan and India, I was conscientious about my responsibilities, of course, but what I valued most, I think, was burrowing deeply into each culture. . . . . Meanwhile, having finally acquired that doctorate in American literature, I'd confirmed what I already knew: teaching wasn't for me, which (understandably) didn't prevent me from accepting the challenge of introducing Pakistani students to American writers as a Fulbright lecturer at Punjab University in Lahore. . . . . So, what else did I do over the years? I edited a community weekly in Philadelphia, served as a radio and print journalist in Moscow, worked as a technical writer and an advertising copywriter, won a grant to study Hindi at Delhi University, though not in that order. When invited to join the Foreign Service, I had to give up a terrific fellowship in South Asian studies at the University of Chicago, but the ease of that decision surprised me. I might not always agree with the policy I'd be explaining, but the trade-off clearly tipped in my favor: fascinating work while savoring new places, new people, new adventures. . . . . Little by little, my purely private scribblings began to command a form that seemed fit to share. Hence this webpage. (Not available here is Four Walls and a Black Veil, a collection of the work of Pakistani poet Fahmida Riaz for which I was a principal translator.) In Santa Fe, as I was easing into writing full time, I won the 2002 Southwest Poetry Center's Discovery Prize and the New Mexican's 2008 poetry prize, modest awards that came as refreshing sips of water during a marathon. . . . . Nor have I renounced my interest in diplomacy and global issues. With Patricia H. Kushlis, another ex-foreign service officer,

I'm a co-founder of the hard-hitting blog WhirledView (www. whirledview.typepad.com). WhirledView's main focus is foreign affairs, but we stray into U.S. politics, law, culture and travel as well. . . . .Finally, a crumb of the personal: I have two fine grown-up sons, an awesome grandson and a wonderful daughter-in-law. And I love to hike and trek.
About the poems appearing just below: all have to do with writing poetry. "Anemia" came about because many of the poems that were destined for a collection that first appeared in Calcutta under the Writers' Workshop imprint (as The Deadmen) and has now been republished as A Partial Rainbow Makes No Sense didn't seem to fit currently accepted notions of poetic decorum. And for good reason: their subject matter wasn't decorous. "Something Bright" and "Hibernation" take a lighter approach to writing poetry, whose genesis, it often seems to me, is more like gestation or discovery or crystallization than rule-regulated fabrication. There's this, too: the rougher the going, the greater the need for a sense of humor. "Hooks," in The Danger is Seduction, gets at the further complication of perspective.
ANEMIA
(from A Partial Rainbow)

You want me to be i-
                                   ronic,
                                      to approach
                                             by in-
                  direction and speak (if I must)
                                                     through un-
                                  derstatement.  Anything else,
                                                 (you say) is un-
                                                  poetic,
like a boot stomping a violet,
I suppose. But facing killers,
I say: NO!
Having lived in the lands of the un-
                               derfed and the un-
                               enfranchised and the in-
                               defensible, I say it
                               again: NO!

Real poems don't rage? Can't
convey the pain of an arm
macheted off, shock
the only anesthetic? Can't
fix on a girl's frozen eyes
watching a shirt go red
as bullets make a sieve
of Daddy-Father-Papa's chest? 
Wouldn't stoop
to playing back, un- 
                damped,
                the primal scream
that erupts when memory gets un-
plugged and horrible things
rush out?

This coyness that's praised,
this pastelized soft porn
that never groans or grunts
or barfs,
this pay dirt
for critics and scholars in-
              tervening to in-
              terpret
for the masses, is it elegant in-
direction? Or evasion?
Delicacy or anemia?
Ambiguity or
simple lack
of care-
ing?
SOMETHING BRIGHT
(from The Danger is Seduction)

This dump truck head of mine
picks everything up and packs it in.

Thoughts don't get lost. They buzz
around like flies on food.

I write to keep the maggots out,
to fend off clutter and confusion.

But stuff keeps piling in, so much,
so fast, it's hard to sort and profit by.

I decided once to quit. I declared
the landfill full.

From the junk pile a glimmer,
something bright rolling free,

and I — oh yes!
was back in business.
HIBERNATION
(from The Danger is Seduction)

The she bears
have found their winter motels
and parked themselves.

Lucky sows. Tucked away
in comfort, warmth
and darkness

to nap, to dream,
to gestate. Snow falls,
piles up, melts off.

Sap rises. Trees green.
Skinny bears emerge
with a cub or two.